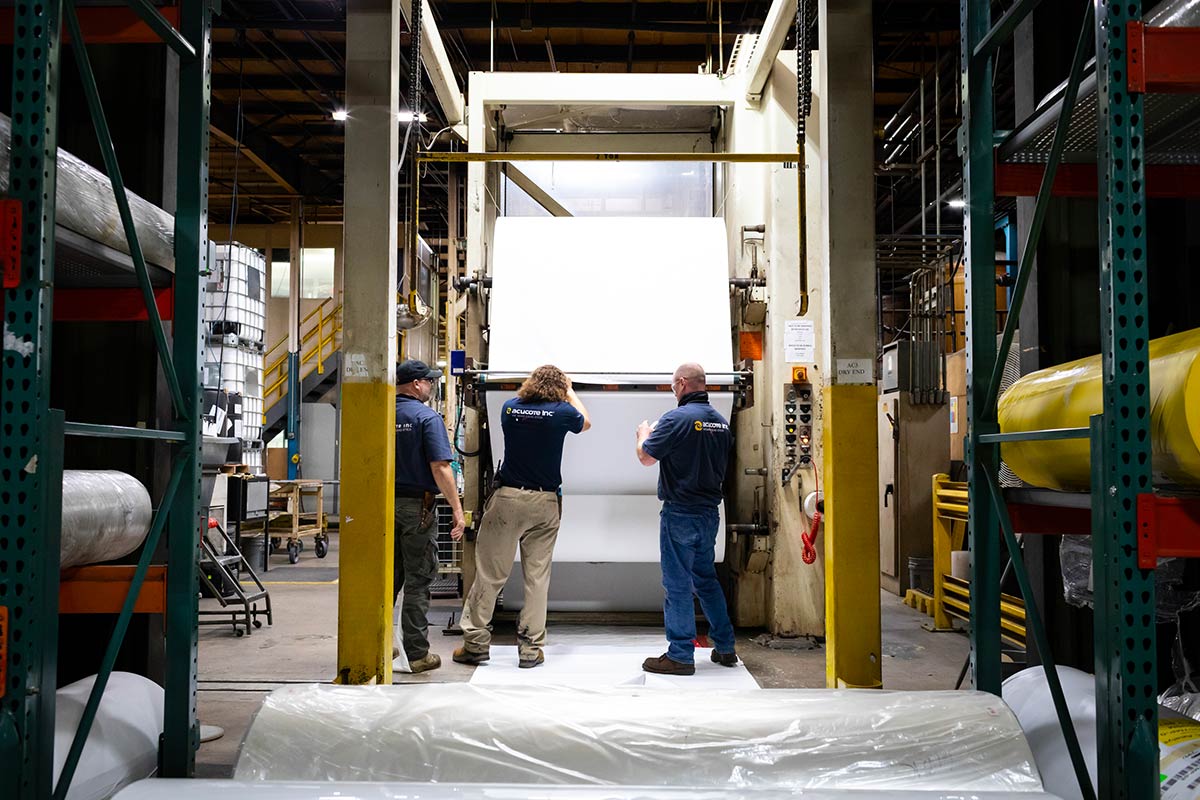 Making the difference on the US market
We take pride in our unique ability to understand our clients' individual needs to support and enhance the growth of their specific business strategies. Our nationwide sales force and strategically-placed slitting and distribution warehouses in North Carolina, Pennsylvania, Ohio, Texas and California enable us to provide solutions to our customers throughout the United States, encompassing a set of services and capabilities surrounding silicone and adhesive coating, slitting, sheeting, and laminating for an array of product materials.
We strive for what works best
Sophisticated laboratory capabilities, mixed with creative thinking and shorter product development lead times, allow us to innovate and be at the forefront of new markets. And, with the global resources and synergy of Fedrigoni Group, we are able to continuously offer our customers concrete solutions and alternatives to existing products.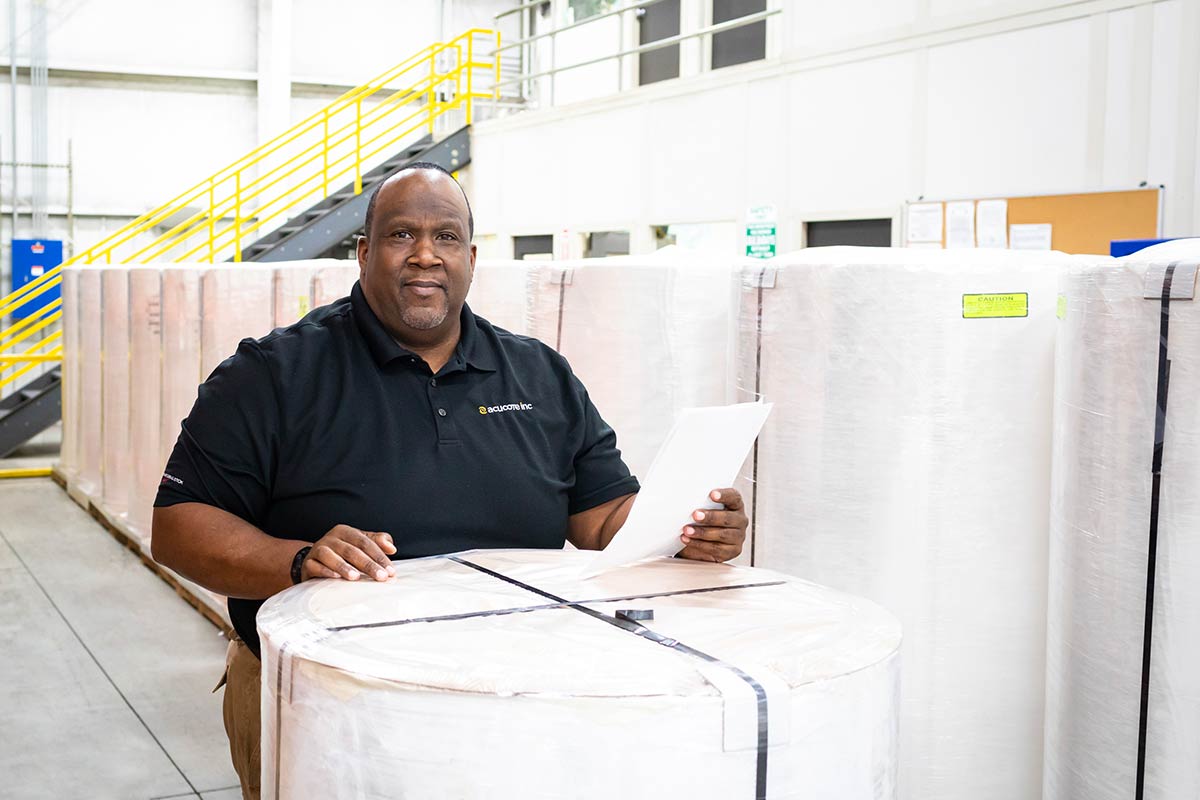 Assuring quality is our pillar
Our entire team is committed to providing dependable, repeatable solutions. At Acucote, delivering high-value, quality product is a top priority and we have implemented company-wide programs to ensure we are continuously improving our products, capabilities and customer service. Using Statistical Process Control, Six Sigma methodologies, DOEs and Lean Manufacturing principles, we are committed to shipping quality product from order to order.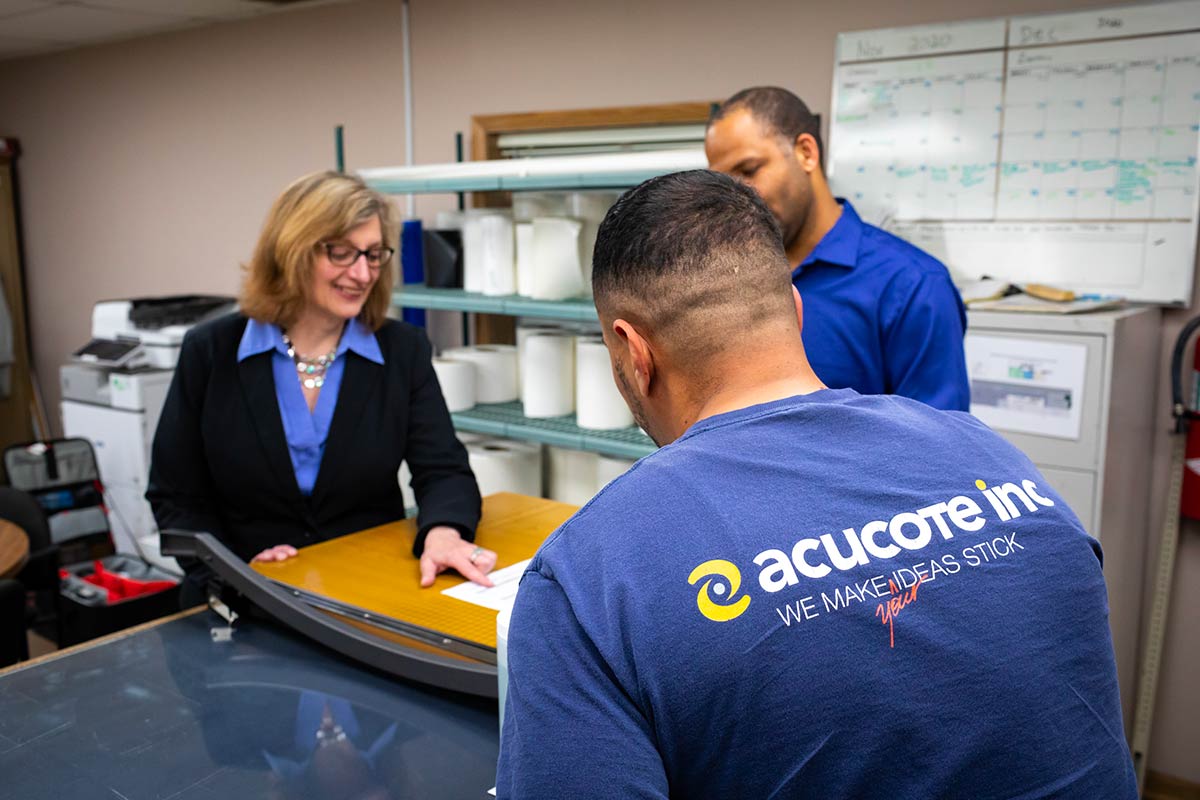 Our Product Offer
Complete Product Offering
An array of facestocks, over 50 adhesives and a wide variety of release liners. Materials are available as slit rolls or sheets in both self-adhesive and non-adhesive form.
Download Product Offering
AcuChoice: Stocked Products
The AcuChoice program is designed to offer a listing of stocked No Trim self-adhesive papers and films and custom solutions – available as quick ship.
Download Program
Integrated and Affixed Forms
Offering siliconized liners, transfer tapes, back laminates and laser compatible front laminates for the Integrated market. Additionally, piggybacks, affixed card solutions and instant redeemable coupons are available for affixed forms manufacturers.
Download Forms Line
Coupon Solutions
Offering single-side and two-sided solutions. Select from a diamond patterned release system allowing for any converted die cut label shape or utilize a linear-patterned release structure designed to produce 2, 3 or 4 up credit card sized labels.
Download Coupon Solutions
Purchase Offcuts & Overruns
Reduced-priced media is updated daily. There are no warranties on products purchased. Full freight costs will be invoiced. Normal freight rates are not applicable.
Download PS Store
Our Services and Capabilities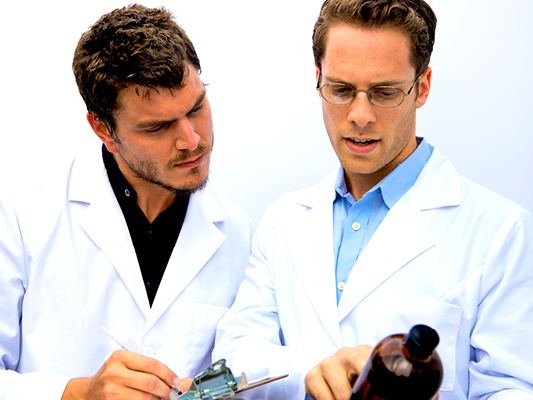 Product Development
Our team of technical and applications specialists support our customers by providing application solutions for the most demanding labeling challenges. They are dedicated to providing end-use solutions with innovative thinking, sophisticated laboratory capabilities, shorter product development lead times and strong vendor relationships.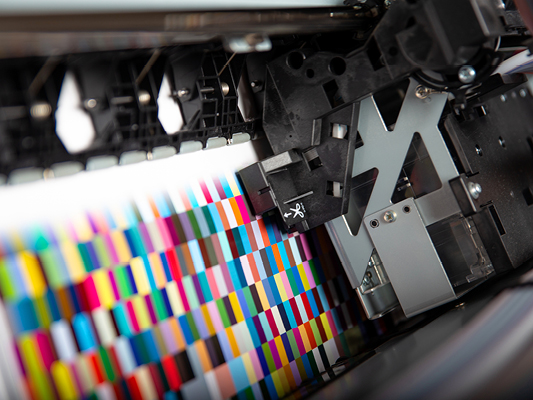 Customized Topcoating
Acucote can topcoat the majority of our facestocks for UV Inkjet, Laser/Toner and HP print systems. Depending on the selected media and the print method, a topcoat could be required to achieve acceptable print quality, improve ink anchorage, enhance image clarity, reduce bleed, improve curing, allow for an increased run speed and increase label durability. These facestocks can be paired with a variety of stocked adhesive and liner options.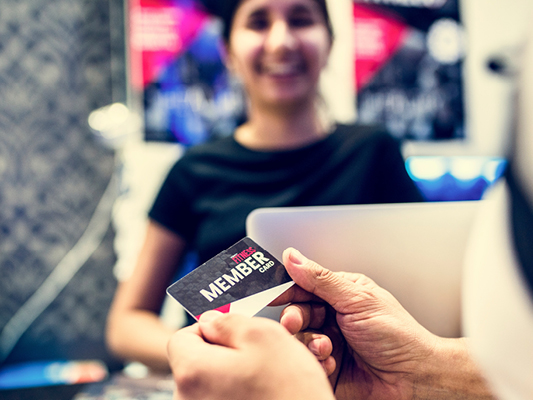 Dry Release Technology
Our extensive selection of dry release coupon and affixed card solutions are perfect for creating instant redeemable coupons (IRCs), available with a single and two-sided messaging. They are ideal to create promotional labels, temporary IDs, membership cards, game pieces and more. LiftCote® and Diamond-Cote® solutions are available with a wide selection of adhesives and liners.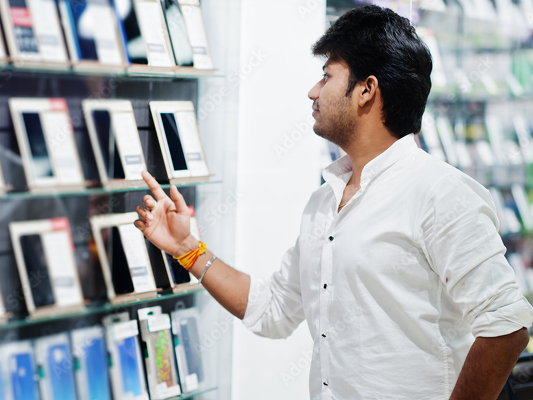 Blockout and Colored Adhesives
Our black blockout adhesive is a visually-superior product, offering the highest degree of opacity in the industry. We also provide custom adhesive coloring capabilities that allow you to achieve branding and anti-counterfeiting, tamper-evident solutions for your customers. Blockout and colored adhesive options are available with permanent and removable adhesives.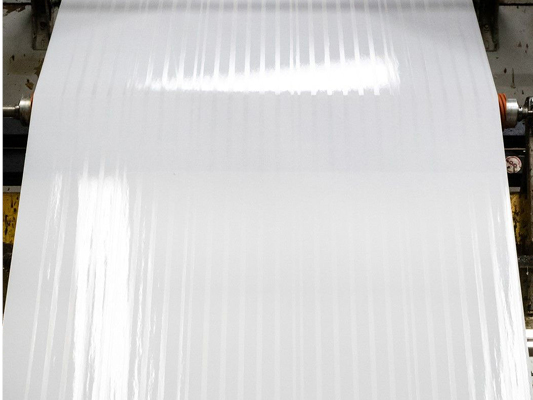 Pattern Adhesive Coating
We are able to pattern coat all adhesives – excluding microspheres. Linear patterns require a minimum adhesive coverage of 50% across the web with a minimum adhesive lane requirement of 3/8". Non adhesive lanes can be up to 3" with a minimum of 1/8" lane. Work with our Application Development Team (ADT) to develop your specific pattern specification.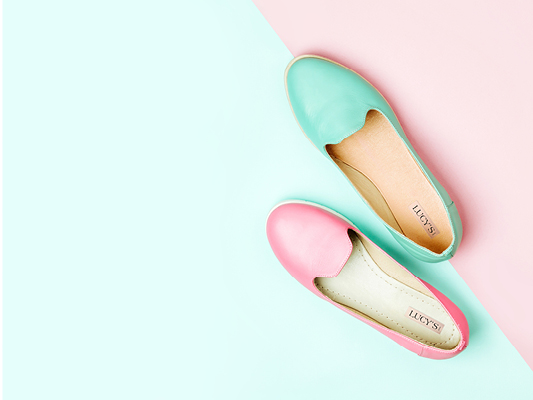 Transfer Tapes
Both supported (with a carrier or mid-ply) and unsupported (no mid-ply) transfer tapes are available. Supported transfer tapes are compatible with a variety of adhesives including removables. Our solutions allow customers to convert non self-adhesive material to a self-adhesive application by delaminating a liner and replacing that liner with a selected media. Custom pattern adhesive coating and single color printed liner are also available with these solutions.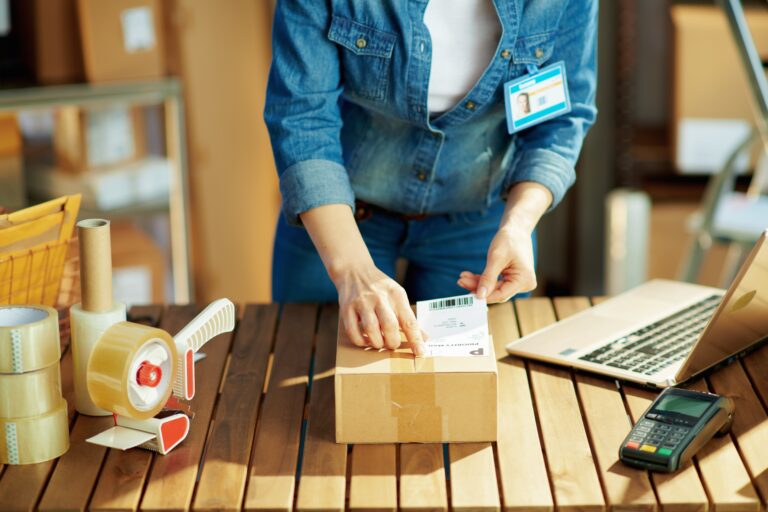 Multi‑ply Constructions
Offering a full line of halfbacks (silicone up liner / adhesive / silicone up liner), piggybacks (facestock / adhesive / silicone up liner / adhesive / silicone up liner) and customer-specific multi-faced constructions developed with our Applications Team. Custom pattern adhesive coating and single color printed liner are also available with these solutions.
Custom Printed Liner
Ideal for branding and product identification; display custom text, images or logos in a single color on the reverse side of a silicone-coated liner. Available printed liners include 30#, 38#, 40#, 40# Natural, 3.2 mil LF, 60#, 78# and 83# paper liners. Liners are available in multiple widths and release levels ranging from easy to extra tight. We can print on the backside of facestocks prior to PS laminating for overt and covert enhanced security.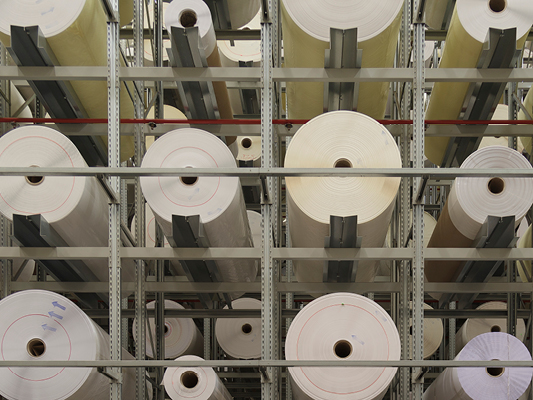 Silicone Coating
We provide a variety of silicone coated release liners to both the pressure-sensitive adhesive, forms and industrial markets. Our silicone coating process uses environmentally-sound 100% solids technology to yield solutions up to 62″. Available liner bases include paper, polyester, poly-coated kraft and custom options – all with customizable release systems from easy to extra tight. Custom pattern silicone coating is available.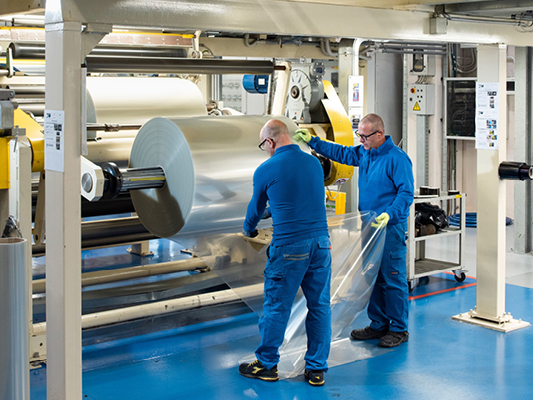 Toll Coating
We specialize in the adhesive coating and lamination of customers' proprietary facestocks as well as applying top coatings that are receptive to specific printing processes. We accept customer-supplied facestocks, adhesives, release liners and base stocks – and then manufacture the desired laminate using one to all of a customer's raw materials.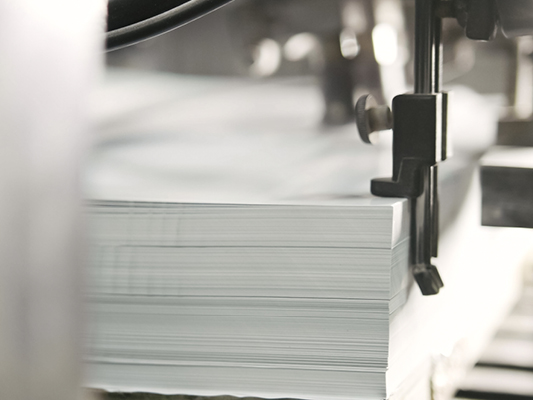 Sheeted Products
We can sheet pressure-sensitive and nonpressure-sensitive papers, films, synthetics, boardstocks and additional specialty stocks. Our North Carolina sheeting capabilities range from 12" to 42" W and 13" to 48" L and our Ohio location can sheet 13" to 60" W and 13" to  100" L.  Our re-moisturization process ensures that sheeted products layflat for optimal performance.
---
---